I suck at art. As such, my blog has been mostly text with few images.
Recently I started playing with Stable Diffusion on my PC, and it occurred to me I can use it to generate some artwork for the blog. As a result, I've added images to various posts generated by it. I'm not sure if these images add or subtract from the blog, but if you look at them, I think you'll agree that I am a poor artist!
If you're new to AI generated art, a word of caution: It will be an exercise in frustration! I don't have a GPU that can handle it, but I do have a 22 core CPU. Generating a 512 x 512 image on my machine takes about 2 minutes. You'll often get poor images (a plate melding into the table, for example), so you need to keep tweaking your prompts and making several images for each prompt with different seeds.
To give you an idea, I generated about 130 images of the plate in my Soda Addiction post before I gave up and picked an OK image. My room became intolerably warm as well.
In contrast, a Google image search got me a better image in under 2 minutes. And yes, the image license is not restrictive.
Still, it wouldn't be my image, would it?
I think I would have given up on Stable Diffusion were it not for an early fluke. This was one of the first images I generated: [1]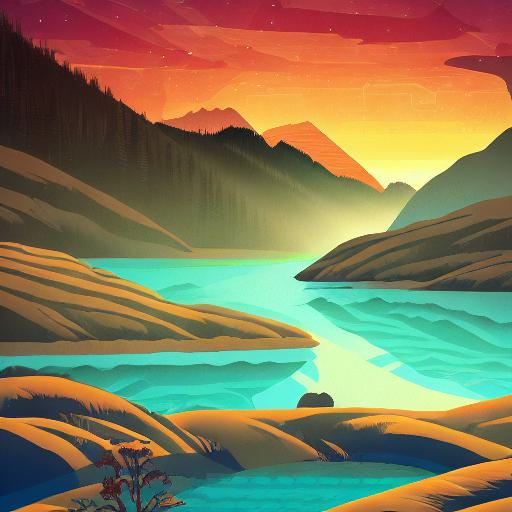 If you want to play around, you can try this site. [2] Here is a list of tutorials. Prompt engineering is extremely important. Obtaining realistic images of people is very hard - you'll have a lot more success with sketches, painting, etc.
Footnotes
[1]
Prompt: landscape, river, mountains, forest, by Asaf Hanuka, Cinematic, Golden Hour, Long Exposure, Cool Color Palette, Low Contrast, Amiga

OCS

Graphics, 16-bit

RGB

, Angelic, Natural Lighting, Soft Lighting,

VFX
| | |
| --- | --- |
| [2] | As of this writing, they've just released a new version and so the site is overloaded. You may need to wait a week or so. |